Comparing Deck Building Materials: Making an Informed Choice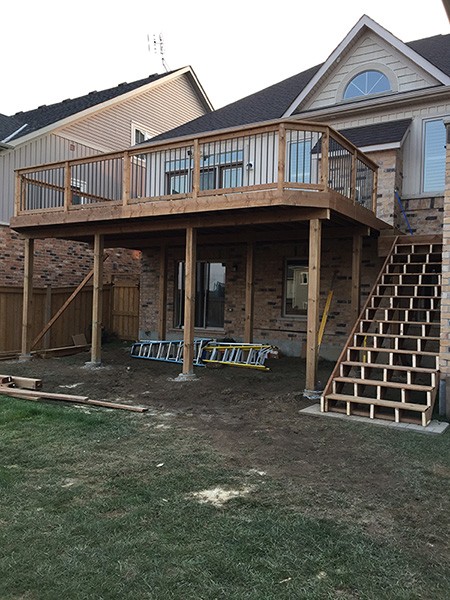 1. Pressure-Treated Wood
Pressure-treated wood is a popular and cost-effective choice for deck construction. It's made from pine or fir that is chemically treated to resist rot, insects, and decay. Pros of pressure-treated wood include its affordability, availability, and ease of installation. However, it does require regular maintenance in the form of staining and sealing to prevent warping, cracking, and fading.
2. Cedar and redwood are natural options prized for their rich color, natural resistance to decay, and insect-repellent properties. These materials provide a warm, rustic look that enhances any outdoor space. Their natural oils contribute to their durability, but they do require maintenance in the form of staining and sealing to preserve their appearance over time. Cedar and redwood decks tend to be more expensive than pressure-treated wood.
3. Composite Decking
Composite decking is a popular alternative to wood, composed of a mixture of wood fibers, recycled plastics, and binding agents. This material offers a wide range of benefits, including low maintenance requirements, resistance to fading and staining, and a variety of color options. Composite decking is highly durable and won't splinter or warp. However, it can be more expensive upfront, and some lower-quality composites might fade or develop mold over time.
4. PVC (Vinyl) Decking
PVC, or vinyl, decking is a synthetic material that is virtually maintenance-free. It's highly resistant to moisture, insects, and fading from UV rays. PVC decking comes in various styles and colors, offering a sleek and modern look. However, it tends to be on the higher end of the price spectrum, and some homeowners prefer the natural look and feel of wood.
5. Aluminum Decking
Aluminum decking is a durable, lightweight, and fire-resistant option that's gaining popularity. It's virtually maintenance-free, with no need for staining, sealing, or painting. Aluminum decking is also great for coastal areas as it's resistant to corrosion from saltwater. However, its metallic appearance might not suit all aesthetic preferences, and it can become hot under direct sunlight.

6. Tropical Hardwoods
Tropical hardwoods like ipe, tigerwood, and cumaru are known for their exceptional durability and rich colors. These woods are incredibly dense and naturally resistant to rot, insects, and decay. However, their premium quality comes with a higher price tag, and they can be challenging to work with due to their hardness.
Choosing the right deck-building material involves weighing factors like budget, maintenance preferences, aesthetics, and durability. Pressure-treated wood, cedar, redwood, composite decking, PVC, aluminum, and tropical hardwoods each have their own set of advantages and drawbacks. By considering your specific needs and priorities, you can select the perfect material that not only suits your vision for the deck but also ensures years of enjoyment with minimal maintenance. Whether you prioritize the classic appeal of wood or the low-maintenance benefits of composite and synthetic materials, there's a deck-building material out there to match your desires.
Stay Informed
When you subscribe to the blog, we will send you an e-mail when there are new updates on the site so you wouldn't miss them.
Comments
No comments made yet. Be the first to submit a comment